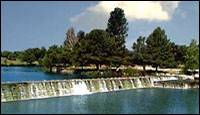 The Blanco State Park is just a stroll away from downtown Blanco. It is the smallest state park in Texas, as well as the only one situated within a city limit. Built in 1934 through 1936 by the Civilian Conservation Corp. on 110 acres including both banks of the Blanco River at Highway 281, in Blanco. The park opened in 1936. There are 21 campsites with water/electricity, and 10 with water/electricity/sewage, seven screened shelters, restrooms, showers, dump station, picnic shelter with kitchen, hiking trail, canoe/tube rental concessions(seasonal).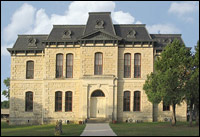 Built during 1885-1886 and designed by well-known Austin architect Frederick Ernst Ruffini. In 1890 the county seat was moved to Johnson City, and the new courthouse was only used four years by the county.
According to the survey report for the National Register of Historic Places, "Overall the courthouse is one of the finest examples of courthouse architecture from the late 19th century in Texas."
The courthouse has been used as a school, a bank, an office building housing lawyers, doctors, dentists, an opera house, and a hospital in 1936.
The old Blanco County Courthouse is now open as a visitor center, gift shop and community center. It is located on the town square in Blanco at the intersection of Highway 281 and Highway 165.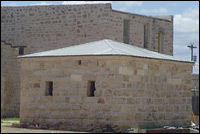 The jail was built in 1877 and is one of the oldest buildings in Blanco. The jail was only used until 1890 when the county seat was moved. The steel jail cells were moved to the jail in Johnson City. The jail did figure in one notorious frontier episode, the infamous Al Lackey killing spree. In 1885, Lackey set out with his rifle to kill his own family. He successively killed 6 relatives in all. Captured in Johnson City, brought to Blanco and put in jail. A couple of days later a mob gathered at Brushy Top, rode to Blanco, yanked Lackey from jail, hanged him high from a large live oak north of town, where the tree is still standing.
The jail still in its original form is now part of the Uptown Blanco Arts & Entertainment Complex, located behind the Uptown Blanco Restaurant.

These attractions can also be reached in a very short period of time from any of Blanco's lodging locations.

Canyon Lake is 20 miles from Blanco, and is a true hidden treasure of the Texas Hill Country. With breathtaking waterfront and lake views; this is the place where many are starting to call home. Canyon Lake has so much to offer: Boating/Sailing, Water Skiing, Kayaking, Fishing, Scuba Diving, Parasailing, Hiking, Dining, Shopping, and much more. www.canyonlakeguide.com www.canyonlakechamber.com

Fredericksburg is 50 miles from Blanco, and is really a fine old German town. Catering to the tourist with nice restaurants, antiques and craft shops. Fredericksburg has plenty of local attractions like the Admiral Nimitz Museum, Enchanted Rock State Natural Area. Also you can visit the Wild seed Farms Market Center and see Bluebonnets, poppies and many other species, located 7 miles east of Fredericksburg. www.fredericksburg-texas.com

Johnson City is 15 miles north of Blanco on Highway 281, and is the boyhood home of Lyndon B. Johnson, our former President, where you will find his boyhood home, LBJ Ranch and many other local sites. www.lbjcountry.com

Luckenbach is located under 30 miles from Blanco, and is host to the annual July 4th, Willie Nelson Concert. Everyone wants to come to Luckenbach and many do. Some folks have a little trouble locating that little town so we're going to write out the directions so you can't miss it.
How to find Luckenbach:From Blanco, go west on RR 1623 until you pass the Riverside beer joint, then turn left on RR 1888. follow RR 1888 until you come to RR 1376, turn right, go down the hill, up the hill, cross the creek with water in it [most of the time] and turn left on the first paved road. "You're There". www.luckenbachtexas.com

Marble Falls is approximately 40 miles from Blanco. A Texas treasure of (5) Highland Lakes, (7) golf courses, The Bluebonnet Trail, State Parks, The Colorado River Trail, great shopping and dining and home to 5,200 of Texans. www.marblefalls.org

New Braunfels is located between San Antonio and Austin, and under 50 miles from Blanco. One may visit the river, antiques stores, outlet malls, Hummel Museum, Landa Park (one of many), also you will find great food ranging from German to TexMex. www.nbcham.org

San Marcos is one of the oldest continuously inhabited places in North America. Native Americans lived on the bountiful banks of the spring-fed San Marcos River as long as 12,000 years ago. Today, San Marcos is a thriving city of 37,000 located on the busy Interstate 35 corridor between Austin and San Antonio and within 50 miles of Blanco. www.sanmarcostexas.com

Stonewall is located 10 miles east of Fredericksburg, and 35 from Blanco, where you will find various wineries, including Becker Vineyards, which host tours, tastings and picnic facilities. www.stonewalltexas.com